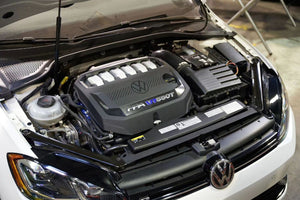 HPA's DDKA 2.5L VR6 Turbo 'VR550T': The Unicorn Unleashed
HPA Motorsports is revolutionizing the VR6 community with the introduction of the VR550T, a crate engine designed for VR6 enthusiasts craving a turn-key OEM VR6 turbo engine for their cars. This engine is a custom version of the 2.5L DDKA VR6 engine that powers the Chinese-market Volkswagen Teramont, known as the VW Atlas in the USA. This engine, the only OEM turbocharged VR6 ever produced, was developed to provide substantial displacement power and torque for the Chinese market Teramont, without incurring a large displacement tax.
This engine has made waves over the years since its announcement, becoming something of a unicorn within our community. Everyone in-the-know is aware of it, but very few have ever seen it. A handful of enthusiasts in the US and Canada have managed to secure DDKA VR6s since their release over 5 years ago in China, thanks to the efforts of iABED Industries and others working to import them for custom use. However, until now, everyone's had to carve their own path to make them work in the car of their choice. To this date, very few projects have been completed. We, as enthusiasts, all know that VR6 turbo engines are the holy grail of the VR6 world—the sound, the power, the strength—it's simply unmatched. It's saddening that VW created this engine and withheld it from enthusiasts, but HPA hopes to change that with their new program.
They have spent over two and a half years developing the VR550T, an overhauled version of this engine. When they tore it apart, they found that this German-built—yes, despite the engine being for the Chinese Teramont, it was still manufactured in Germany—exhibited a level of quality and precision in its construction akin to the W12s and W16s found in Bentleys and Bugattis. Some of the bearings, for instance, come straight from the Bugatti Veyron. Despite this engine being designed for another market, they are confident that the parts needed to service this engine in the US or Canada can be sourced from many other VW/Audi vehicles, ensuring that its use and maintenance here won't be an issue for years to come.
From what we know now, their bulletproof version of the DDKA produces 550 horsepower and 550 lb-ft of torque on 91 octane. It's a testament to HPA's dedication to the VR6 community. The result is an engine that, according to Marcel Horn—President of HPA—is "the most high-strung hyper VR that I've ever seen or encountered in my 32 years building cars under HPA."
At launch, the company's focus is on the Mk7.5 Golf R and its DQ381 7-speed DSG transmission. However, HPA has mentioned that the VR550T engine could fit into almost any MQB platform vehicle, creating a wealth of exciting possibilities for enthusiasts. For example, the engine could be effortlessly placed into an Arteon, 8S Audi TT, MK7 Golf All-Track, and more, offering a thrilling driving experience that echoes the spirit of Volkswagen's turbocharged VR6-powered prototypes​​ that they've been teasing the world with over the past 10 years. Furthermore, with their crate engine program, Marcel hopes to make this available for swapping into most, if not all, transverse VW/Audi platforms. Ever dreamt of an OEM-like VR6 turbo experience in your MK4 GTI? Your MK1 Caddy? HPA might soon answer that call.
As part of their program, HPA Motorsports is planning to produce 50 serialized Mk7.5 Golf Rs, each fitted with the VR550T engine, much like a modern-day Yenko Camaro. You might be thinking—that's going to break the bank. However, HPA assures that this won't be like their $150,000 AWD Scirocco and other 'break-the-bank' style builds they've done in the past. They're committed to keeping this program accessible and attainable. These unique vehicles will serve as a testament to the power and performance that a turbocharged VR6 engine, tuned by experts in an OEM-like fashion, can deliver. While the engine can generate even more power—HPA is certain of it—they want this car to be something you can get in and just drive—it should simply work, with little to no 'tuned car drama.' I'm certain we'll see some VR550T Golf Rs taken to the next level once they're in the hands of their owners, and I can't wait to see it.
Unfortunately, as of now, details on pricing are still under wraps. Yet, HPA clearly expects substantial demand for this engine and appears to have ample stock on hand.
HPA Motorsports has a history of creating powerful VWs, and with the VR550T, they're taking the next step to deliver the Golf R that VR6 enthusiasts have always dreamt of. This program signifies a significant development in the VR6 community and is sure to be a topic of much discussion and excitement in the coming weeks and months.
However, while this overview covers the primary aspects of the HPA Motorsports' VR550T program, there are still aspects that need clarification. More specific details about the engine upgrades, compatibility, and the potential manual version are yet to be disclosed. Once these details are available, we'll be sure to bring you a more comprehensive report. Stay tuned for further updates!
---